Registries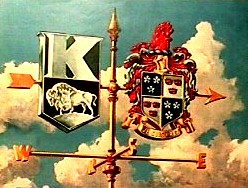 The club maintains three registries of cars. The main registry covers all KF products except Darrin; there is a separate Darrin registry and a separate Willys Aero registry. Data submitted to the registries includes the information from the ID plates attached to the cars at the factory and is invaluable in sorting out production numbers, paint and trim codes, and similar items.
Harold Hagen maintains the KF registry for the club. It has over 3000 listings of Kaisers, Frazers, and Henry J's. Some of these listings date back to the late 60's, when Richard Langworth was active in the club. Of course many listings are for cars that no longer exist. The registry has provided much information about Kaiser production, and trim and paint options. The club is always looking for cars that have not been registered to be added to the list. Harold can also provide information about a particular model to anyone interested. To report a car to the registry, send Harold the numbers off the plates on the car. The serial number plate is on the driver's door post, and the trim plate is on the engine side of the firewall. 1951 and later models also have a body number plate on the firewall. Harold can be reached by mail at: Harold Hagen LM1435, 2428 SW Myrtle St, Seattle WA 98106 or by email. He has recently posted the Registry Files on the internet at his WebPage.
Rick Kamen maintains the Willys Aero registry (also known as the Aero Survival Count). Information is similar to the KF registry and Rick welcomes new listings. He can be reached by mail at: Rick Kamen, 952 Ashbury Heights Court, Decatur, GA 30030-4177 or by email. Rick has arranged for the Aero Registry to be available at the Hemmings site.
David Antram maintains the Darrin registry (the Roster). A high percentage of the 435 cars produced have been accounted for by the registry. Inquiries can be addressed to: David Antram, 762 Antram Road, Somerset, PA 15501-8856 or by email. Jim Lape has built a website for the Darrin Roster.
Also, Stephanie Angelis is compiling a registry of Kaiser, Frazer and Willys automobiles by owner. If you own a vehicle she would like to get some information from you about your car. Go here for a printable form.
On any mail inquiry requiring a reply please include a stamped self addressed envelope.